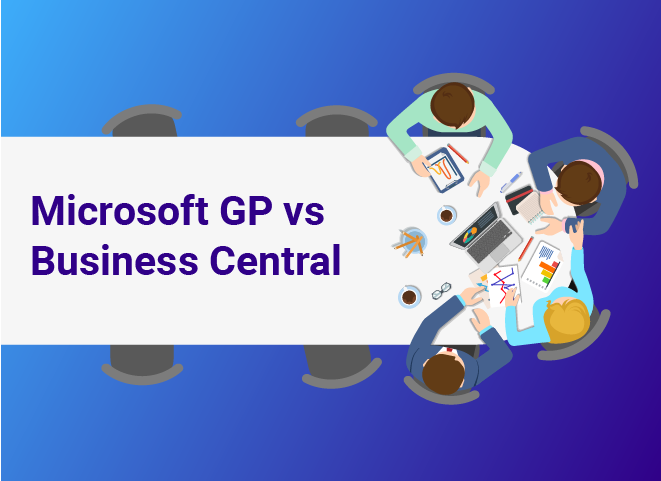 As many Microsoft GP clients look to modernize their legacy ERP system the natural move is to transition to Microsoft's cloud-based Business Central platform.
We recently hosted a webinar (you can watch on demand) that dove into the similarities and differences of the two platforms, covering a range of topics: native functionality, technical aspects, and third-party integrations.
Here we will dive into each section and breakdown what a current Microsoft GP user can expect from Microsoft's Business Central platform.
Chart of Accounts: Dimensional Approach in Business Central
One significant distinction between GP and Business Central lies in their chart of accounts structure. Unlike GP's segment-based system, Business Central employs a dimensional approach.
In Business Central, the chart of accounts includes native accounts listed on the left-hand side, while dimensions act as additional categorization elements. Think of dimensions as pivot tables or Excel sheets that enhance reporting capabilities.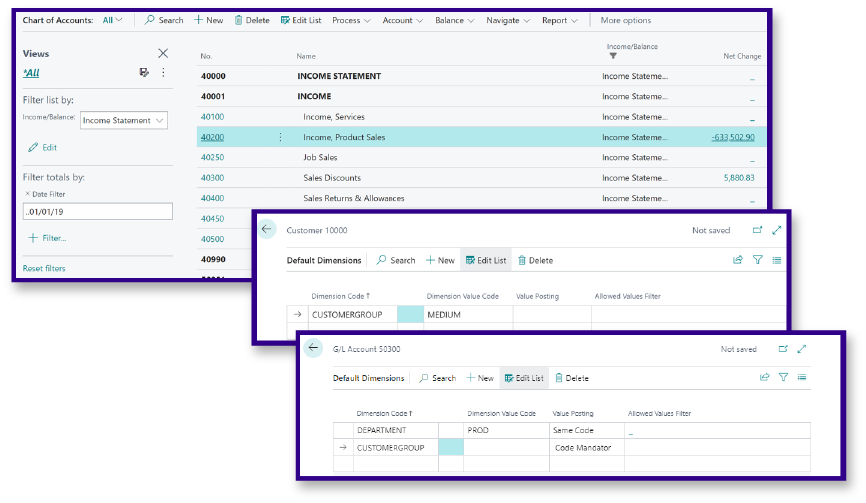 With Business Central, you can customize up to 8 dimensions to track specific aspects of your business. This allows for more granular tracking without the need for segments.
You can establish rules to determine dimension values for each posting, simplifying your chart of accounts while retaining the ability to gain insights from intelligent posting.
Flexibility and Intelligence in Posting
Business Central's dimension-based system offers flexibility and intelligence in posting transactions.
You can assign default values to dimensions for specific customers or accounts. For example, a customer group dimension is used with values such as small, medium, or large. By defaulting a customer to a specific group, you can streamline posting and analysis.
Additionally, you can set up dimension rules for certain GL accounts. For instance, by designating a department code for job cost accounts, you ensure consistent posting.
When selecting a customer group, Business Central prompts users to choose a relevant group for the job associated with that customer.
This level of flexibility and intelligence allows for dynamic analysis and informed decision-making.
Leveraging Dimensions for Enhanced Reporting
Business Central's dimension-based approach enables advanced reporting capabilities. By associating dimensions with specific accounts, you can track and analyze R&D projects, business units, or revenue from acquisitions.
This enables you to assess the impact of different factors on your financials and make data-driven decisions.
Beyond standard reporting, Business Central's dimension functionality allows for unique ways to slice and dice data without complicating the chart of accounts structure. It offers opportunities to gain deeper insights and leverage the system's intelligence to maximize the value of your financial data.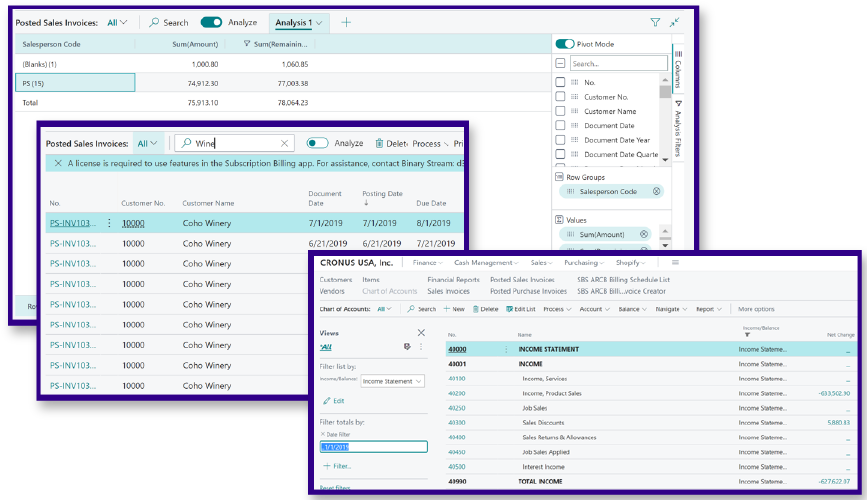 Understanding the differences in native functionality is crucial when evaluating Microsoft GP and Business Central. Business Central's dimensional chart of accounts offers greater flexibility, intelligence in posting, and enhanced reporting capabilities compared to GP's segmentation-based system.
The ability to leverage dimensions allows for custom tracking and analysis without overly complicating the chart of accounts structure.
As you assess your business needs and consider modernizing your ERP system, exploring the benefits of Business Central's dimension-based approach can provide valuable insights for informed decision-making.
Dimensions: Control and Adaptability
One notable advantage of Business Central is the ability to modify dimensions, granting users with appropriate permissions the ability to make corrections when necessary.
Whether a posting is associated with the wrong dimension, or a change is required, Business Central's change log ensures transparency and accountability. Users can make adjustments without the need to reverse previous postings, maintaining control over their financial data.
Furthermore, renaming accounts is a breeze in Business Central. With a few simple steps, users can update account names directly within the system.
Unlike traditional methods that involve external tools or complex processes, Business Central eliminates the need for such overhead and provides a straightforward approach to managing account names.
Posting Groups and List Views: Efficiency and Modernity
In Business Central, GL accounts related to sales and purchasing can be conveniently managed through posting groups. These groups establish a connection between customer posting groups and item posting groups, determining the appropriate GL account for each transaction.
This flexibility allows for customized mappings based on specific actions and provides a seamless experience for users.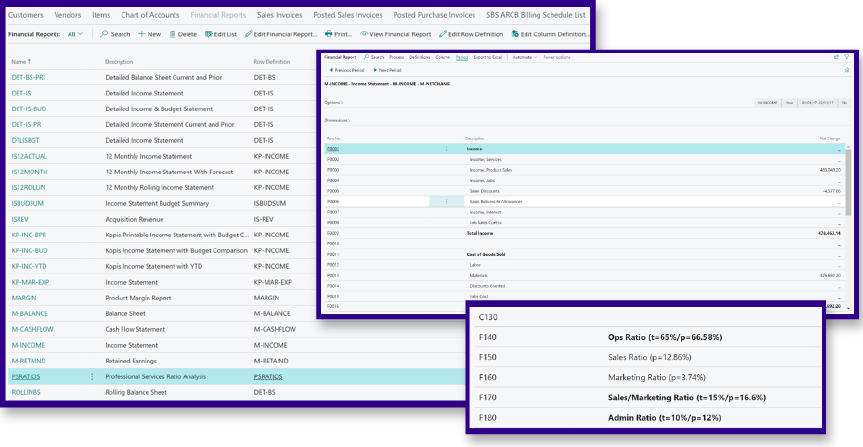 When it comes to interacting with data, Business Central offers card views and list views. List views provide a modern interface with extensive search functionality, enabling users to perform advanced searches across various columns.
Filtering options allow for efficient data aggregation, empowering users to create custom views and analyze information in a meaningful way.
Recently, Business Central introduced a pivot analysis mode for lists, reminiscent of the popular SmartList feature in GP. This feature elevates data analysis capabilities by incorporating Excel's pivot table functionality directly within the system.
Users can easily analyze and manipulate data, gaining deeper insights and driving informed decision-making.
Another great aspect of list views is the seamless integration with Microsoft Excel. Users can export data to Excel and retain a live connection to the API, enabling real-time updates and editing capabilities. This empowers users to perform bulk updates efficiently, such as adjusting pricing or setting start and end dates, directly within the familiar Excel environment.
The flexibility of dimensions and the interactive nature of list views significantly enhance the user experience in Microsoft Dynamics 365 Business Central.
The ability to modify dimensions, rename accounts, and efficiently manage GL accounts through posting groups provides businesses with control and adaptability in their financial management processes.
Journal and Ledger Concepts
Both Dynamics GP and Business Central employ a journal and ledger concept for organizing financial transactions. General journals and recurring journals are common in both systems, allowing for efficient posting and tracking of financial activities.
Additionally, the ability to tag entries with dimensions enhances reporting capabilities and facilitates accurate analysis of data.
Business Central's consistency in using the journal-ledger concept enables users to efficiently manage financial transactions. General journals and recurring journals provide a structured approach to posting and tracking activities.

With the ability to tag dimensions to journal entries, users gain additional context and visibility into their financial data. Furthermore, specialized journals for sales, purchases, fixed assets, banking, jobs, and inventory ensure comprehensive subledger support, allowing for more accurate and detailed reporting.
Preview posting and the option to have multiple dates on journal entries offer added flexibility and control. Users can preview the impact of their transactions, troubleshoot complex scenarios, and ensure accuracy before finalizing the postings. The seamless integration between subledgers and the general ledger provides a holistic view of financial transactions without the need for manual syncing or additional reconciliation.
Budget Management and Analysis
Budgeting in Business Central follows a journal and ledger-based approach.
Uploading budgets, typically done in Excel, allows for easy data transfer. However, Business Central introduces the concept of tagging budgets with dimensions, enabling users to align budgets with specific ERP dimensions.
This dimension-based budgeting enhances the granularity and accuracy of budget reporting, allowing users to compare actuals against specific budgets for better insights and analysis.
Additionally, Business Central supports the ability to run journals multiple times, streamlining allocation processes. This feature allows users to efficiently distribute costs and revenues, ensuring accurate financial reporting and eliminating manual calculations.
Refreshable Ports and Data Connectivity
One of the key advantages of using Excel refreshable ports in both Dynamics GP and Business Central is the ability to connect data to multiple lists, enabling seamless updates to visualizations and reporting tools. With a simple refresh, all connected data is automatically updated, saving time and effort.
Configuration Packages and Excel Integration
While Dynamics GP relies on SmartConnect for data importing and exporting, Business Central provides additional flexibility with its configuration packages. These packages allow users to define specific data tables and columns to be included in Excel templates for ingestion or exporting.
This feature proves useful for updating master data and integrating data from GP into various sheets.
Data Verse Connectivity
Business Central introduces connectivity to Microsoft's Data Verse, serving as a comprehensive platform for storing business data. This integration allows users to connect Power BI, Power Automate, and other tools to access and manipulate data seamlessly.
Furthermore, the Data Verse's direct connection capabilities facilitate the efficient transfer of data, enabling tasks such as copying and pasting from Excel into specific fields.
SmartList Builder and Popdock
SmartList Builder, a popular feature in Dynamics GP, has been enhanced further with the introduction of Popdock. This extension leverages SmartConnect's connectors to various tools, enabling users to create customized smart lists from different sources.
Popdock expands the capabilities of SmartList Builder, providing users with a versatile and powerful reporting tool across multiple applications.
Budgeting and Allocations
Budgeting in both systems is typically performed using Excel templates, providing familiarity and ease of use.
While Dynamics GP focuses on GL-based budgets, Business Central offers more flexibility with budget updates by incorporating dimensions. This enables the comparison of actuals against different budget versions, empowering organizations to make informed financial decisions.
Localization and Company Management
Business Central stands out for its strong localization capabilities. When creating new environments, users can specify the localization settings to ensure compliance with specific tax laws and reporting requirements.
Companies can be easily managed, with no limitations on the number of companies that can be created. Switching between companies is a seamless process, simplifying navigation within the system.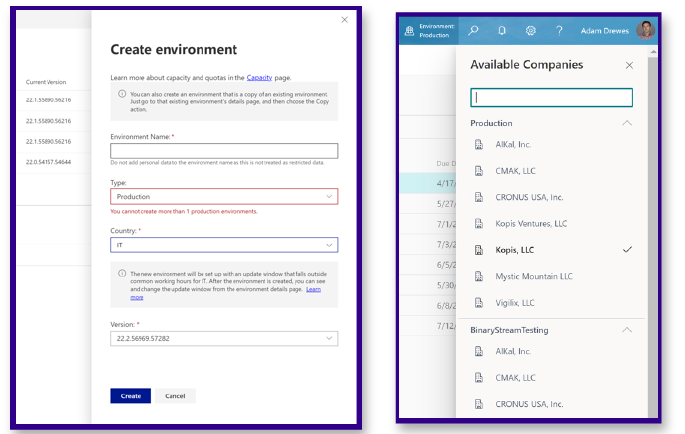 Reporting and Analysis
Business Central introduces financial reports, which are a rebranding of the account schedules in Dynamics GP.
While management reporter in Dynamics GP offers more advanced capabilities, financial reports and analysis views in Business Central fulfill the reporting needs of the majority of users.
These features support the inclusion of GL and subledger data, enabling comprehensive reporting and analysis. Integration with Excel, Power BI, and other tools further enhances the reporting capabilities of Business Central.
Warehouse and Supply Chain Management
Both Dynamics GP and Business Central provide warehouse and supply chain management functionalities. Business Central excels in areas such as bin management, zones, serial tracking, directed picks, and puts. The inclusion of WS functions out of the box enables businesses to optimize their warehouse operations efficiently.
Moreover, Business Central offers granular control over MRP and stockkeeping units, facilitating better inventory management and planning.