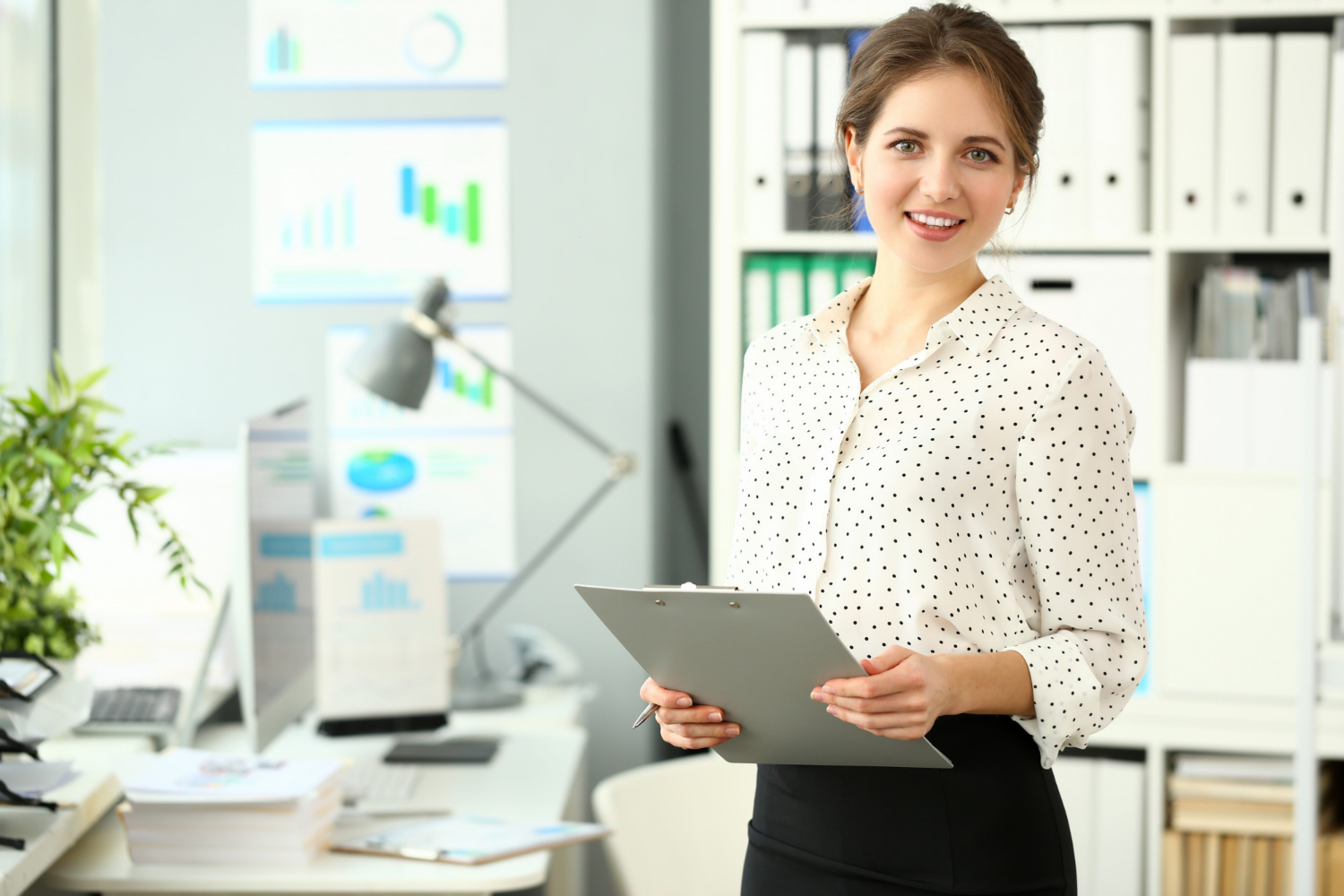 Businesses run processes. Every aspect of a business has at least one process that moves information or data from one system to another, one person to another, one report to another. Everday we head into the office and spend the day moving pieces and parts around.
So many of us spend over half our working hours chasing data, manual entry, and duplicating data into multiple systems, as each of the process often have their own software. The support desk might use a ticket system that's separate form the project management tool. Requiring each group to update and pull data from two places.
Just exactly how much time are we spending on these sorts of tasks? A lot.
We spend 4 hours and 55 minutes every week on duplicate tasks. That's 94 days out of the year spent doing something that could be automated.
But it gets better – let's look at data manipulation. Sales teams alone spend over half (52%) of their working hours looking for information. Across all departments, a Nintex 2018 survey showed employees spend the most time on:
Locating documents
Getting approval requests and shared documents
Pulling and finding data on sales
All of these tasks, from finding sales info, to locating documents, to approval requests, are great candidates for automation.
Business Automation
The idea of business automation isn't brand new and has been buzzing around for a few years now. However, the majority of businesses don't apply automations.
Why? Well, because most of the time, automation is talked about in an ambiguous, overarching way making it hard for businesses to see the actual implementation and impact it might have for them.
What Tools Do You Use for Business Workflow Automation
Microsoft Power Apps and Power Automate are two of the biggest power horses when it comes to business automation.
Power Apps are a variety of apps, services, connectors and a data platform that allow you to develop custom apps and automation for your business in a low-to-no code environment.
This platform from Microsoft is the heartbeat for many business automation plans because it:
Streamlines processes, data collection, decision making
Empowers mobile and desktop workers
Pulls data from a wide range of back-end systems including Dynamics 365
So, now that we've got the why and the what let's break down some real scenarios by task and industry.
Workflow Automation Examples
Energy Industry
Automate Scheduling / Energy
Scenario:
A leading energy provider needs an easy way for 3,000+ employees to efficiently view availability and book 200+ conference rooms and workspaces.
Solution:
Power App-based resources booking tool for desktop
Mobile resource appointments and availability tracked in SharePoint lists
Power Automate to send out reminders and notifications, if a reminder is not confirmed, Power Automate removes booking, freeing the resource
Result:
Five weeks to design, develop and deploy Power Apps automation
User-friendly app featuring all the data needed by meeting organizers
App made bookings easier for staff while reducing meeting costs
Real-time visibility into meeting spaces, staff could reduce booking unnecessary external meeting places
Site Surveys / Energy
Scenario:
A leading US gasoline franchiser with 1,450 locations across 19 states had 150 staff members performing quality site surveys. The surveys required manual data entry and photo uploads to Dynamics 365, which created a cumbersome, time-consuming process for surveyors.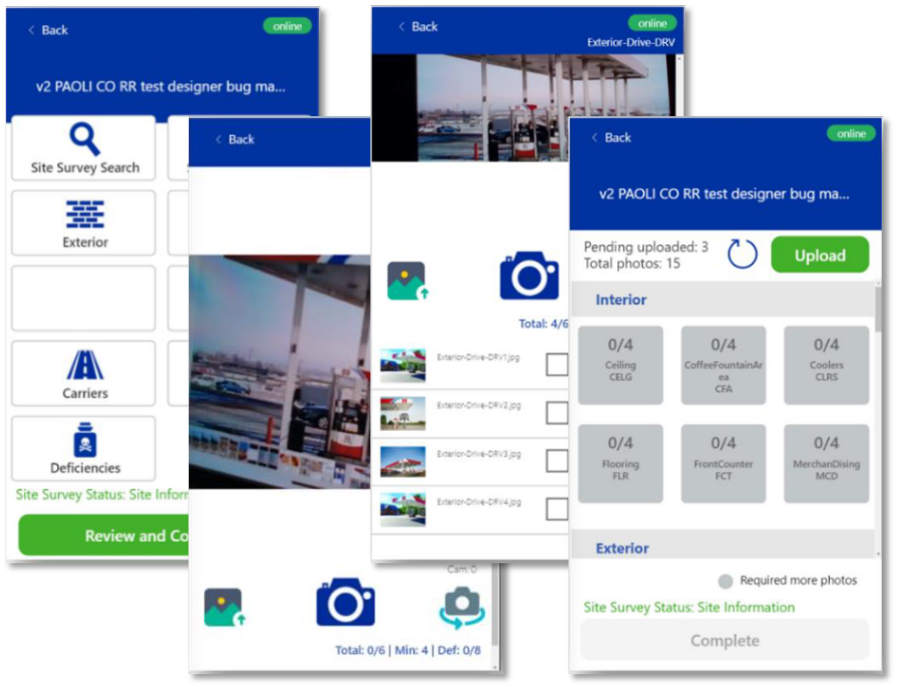 Solution:
Power App deployed to all 150 surveyor's mobile devices
Power Automate uploads photos to SharePoint, data then sent automatically to Dynamics 365 through CDS/Dataverse
Result:
Complete Power Apps solution implemented within a few weeks
Easy for surveyors to enter all data, at one time, in all weather conditions
Back-office doesn't have to do any reconciliation data with pictures
Financial Industry
Inspections / Financial
Scenario:
A leading banking institution had managed ATM inspections with manual processes including paper, clipboards, Excel, and email
Solution:
Power App-based mobile ATM inspection app
Data stored in Sharepoint Online Lists
Power BI leveraged for back-end reporting, Dataverse for workflow alerts
Result:
Power Apps enabled prototype development in 24 hours
Deliver reports virtually, reducing paper usage, storage, and physical hand-offs
300+ inspectors use the app to generate over 5,000 reports each month
Easily locate ATMs with reported issues and ensure all are resolved
Project Management / Financial
Scenario:
A US based bank's legacy core banking system needed modernization. They needed a solution that could better handle vast amounts of data from a variety of sources, and one that was quick and easy to implement.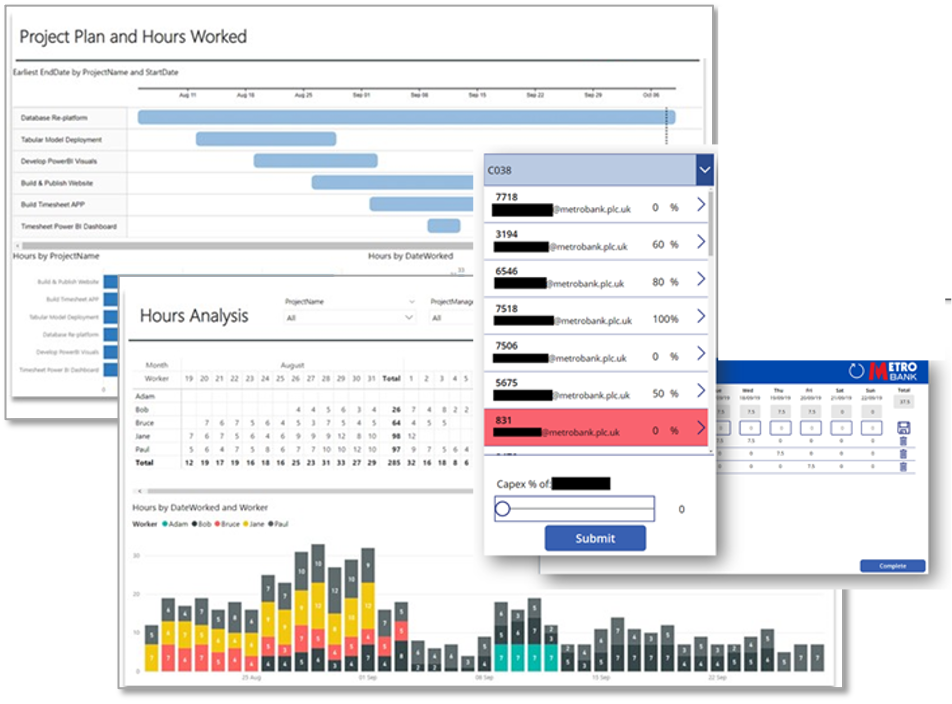 Solution:
Build a Power Apps application to optimize data entry and accelerate growth through Microsoft Power Platform including Power BI and Azure data services
Result:
Power Apps enabled complete solution development within six weeks
Cut down multiple systems into one central system
Simplified data entry across departments and functions
Provided meaningful insights through powerful dashboards
Healthcare Industry
Order Entry / Healthcare
Scenario:
An emergency assistance, disaster relief and preparedness organization were using paper form requsts for ordering supplies creating a cumbersome and slow process as well as obscure visibility into inventory and order status.
Solution:
Power Apps used to build a "Supply Hub" catalogue
Data stored in SharePoint
SharePoint approval workflows being updated with Power Automate
Power BI used for reporting, providing daily updates on progress and order status
Result:
Solution rolled out to all 650 people needed inventory requests
Eliminated all paper forms and streamline their supply ordering process
Order lifecycle cut from 3-4 weeks to 4-5 days, with regular status updates
Health & Safety / Healthcare
Scenario:
A leading manufacturer of medicines, vaccines, and consumer products was used a paper-based data collection process. Collecting health and safety data in this way was cumbersome and caused delayed visibility into potential issues.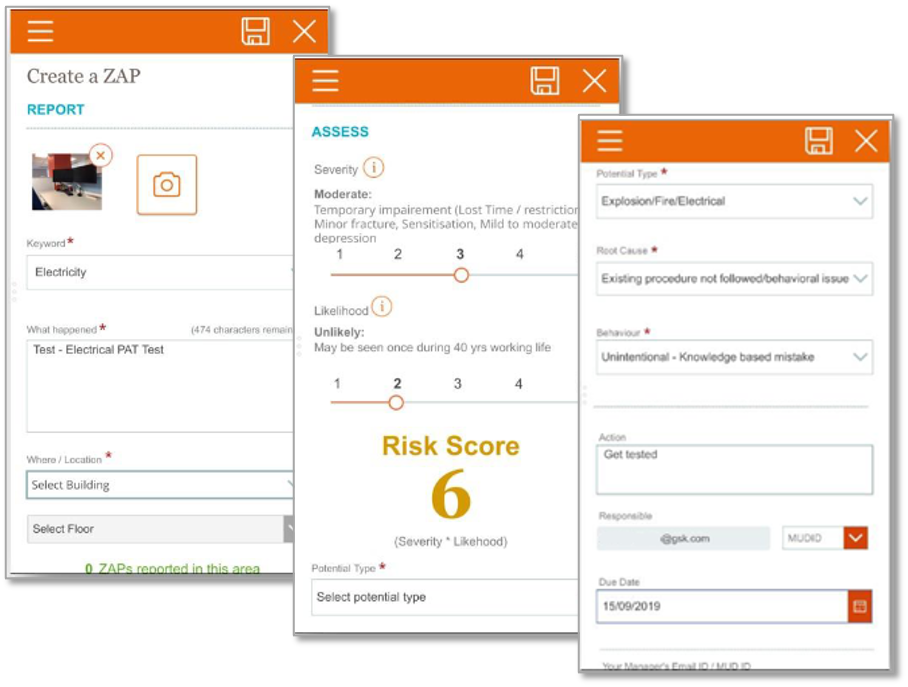 Solution:
Power Apps Canvas app created to capture data and context around the safety risk, including photos
Power Automate is used to send email notifications
Data stored in Azure SQL tables and visualized using Power BI reports
Result:
The app has 1,000+ monthly active users and 2,000+ monthly sessions
Faster data access with data being instantly available
Easier data entry has led to much higher rate of ZAP incident reports, reducing potential risk world-wide
Scheduling / Healthcare
Scenario:
Large US community mass immunizer, serving 40k+ patients annually was using a cumbersome paper-based process that cut into patient time for clinicians. The organization also needed a new vaccination process after COVID upended traditional clinics.
Solution:
Custom website for patient bookings built with Dataverse SDK
Mobile canvas app for clinicians for their assignments and appointments
Model-driven admin app to manage overall operations
Power Automate cloud flows to streamline bookings and rescheduling
Result:
Power Apps enabled complete solution development within eight weeks
Increased vaccination output by 50% from around 40k per year to 60k, despite 2020's challenges
Single patient processing dropped immediately from around 20 minutes to 30 seconds
Manufacturing Industry
Employee Communication / Manufacturing
Scenario:
A consumer products leader with 19k employees migrated to the cloud, creating an opportunity to revamp employee communication process. Each region had its own execs and ops, creating communication alignment issues.
Solution:
Built a communication hub with Power App on SharePoint online
Central hub for staff to get general role-based messages and apps
New retail Quality Control mobile Power App capturing photos, GPS, and barcodes
Power BI for reporting, data visualizations that integrated into SharePoint
Result:
Power Apps enabled solution development within 14 weeks
Global staff kept up to date on company-wide updates and events
Encouraged collaboration across departments and regions
New low-code framework for creating new role-based apps
Estimation / Manufacturing
Scenario:
Leading producer of energy efficient motors and power transmission products had a base of sellers who were documenting potential energy cost savings as part of the selling process. This was an Excel based estimating process that was tedious, out-of-date, and extremely error prone.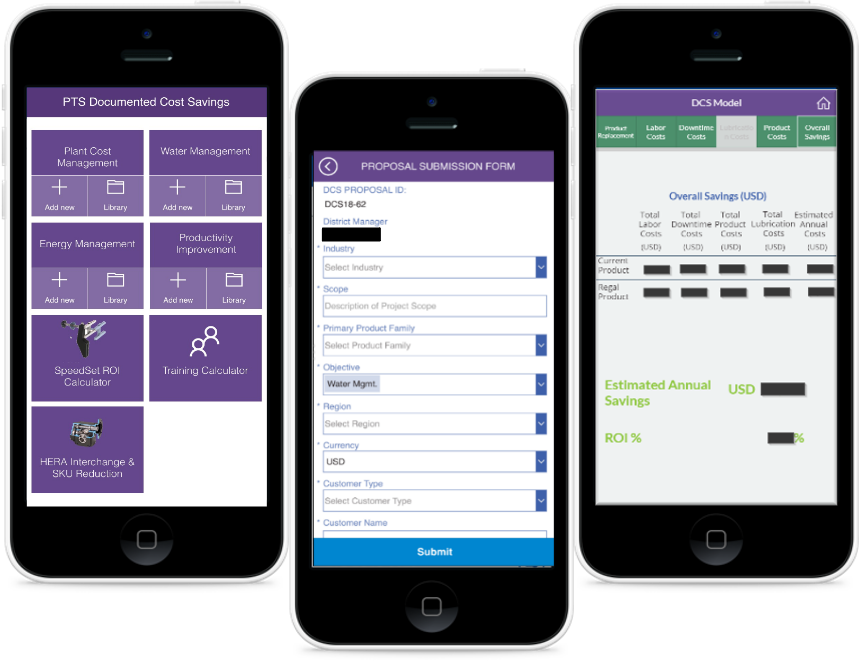 Solution:
Deploy a new, easy-to-use Power App based estimator for mobile devices
Proposals sent to SharePoint Online lists, accessible by sales from any app
Triggers send proposals to distributors for approval workflow
Result:
Reduced complexity for preparing cost-savings documents
Easy-to-use mobile experience, without Excel or email based proposals
Cost-savings can be tracked, shared with customers and distributors
Automated business process frees up time for sales team
Field Service / Manufacturing
Scenario:
Industry leader in electric motor repair and engineering services had 25 repair facilities that served over 4k+ customers and 6k field service jobs annually. Documentation for repairs in the field were paper-based, the tracking process was slow with limited real-time visibility.
Solution:
Paper forms transformed into tablet-based suite of 20+ Power Apps
Apps perform calculations and capture photos throughout the process
Data stored in SQL, synced with Dynamics, used by sales for job status
Reports are viewable via Power Apps and to external users via portal
Result:
The company and customers can self-serve reports, without waiting weeks for status
Teams spend less time manually managing images and repeating calculations
Customers get consistent repair reports and processing in a unified format
Field Service / Manufacturing
Scenario:
Fuel systems solution provider serving gas stations across the US employs field techs that are dispatched Mondays to inspect tanks and return Fridays with lots of paper reports, time sheets and pictures. At the end of the week, techs would spend hours uploading and manually logging information, which created a long gap between job and invoicing.
Solution:
Mobile Power Apps track job details, directions, time sheets and photos
Data syncs to SharePoint lists, reporting through SQL server and SSRS
Back-end process created report in PDF/Word for third-party report
Triggers alert the report admin to review and approve reports
Result:
Within minutes of tech leaving site, job can be reported and invoiced
Dispatchers know real-time job status, can inform customers
Minimal training required – solutions looks and feels like an iPhone app
With automated notifications, jobs no longer fall through the cracks
Inventory / Manufacturing
Scenario:
Insulation and product solution leader for manufacturing had teams of employees sharing inventory levels and shipments with Excel and emails. This tedious, manual process was slow and created competitive risk.
Solution:
Inventory Power Apps used by customers on tablets on shop floor
Data stored in Dataverse as precursor to Dynamics AX integration
Customers have parts on consignment, until picked for a job, trigging invoice and replenishment
Result:
Simple and automated system sed by floor technicians to record inventory used on projects
Seamless reconciling process: listing inventory, drafting PO and invoicing
Immediate PO reporting for jobs and inventory used
On-hand inventory tracking shows products available and restocking needs
Sales / Manufacturing
Scenario:
Global provider of water, hygiene and infection prevention solutions was serving close to 3 million customer sites across 170+ countries. The sales reps were spending more than half their time on non-client facing activities with key data spread across multiple, gated and disparate systems.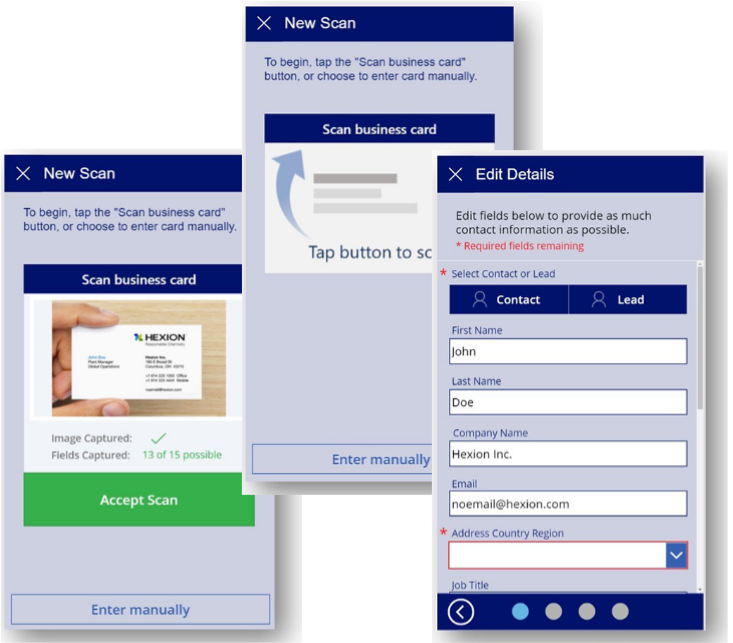 Solution:
New Power Apps-based hub, creating unified experience for all sales reps
Power Apps applications for both mobile and desktop
Power Automate cloud flows and Power BI reports
Built on Dataverse, integrated into Dynamics 365 and Azure services
Result:
Pilot deployed in two months, full rollout to 2k sales reps in four months
Solution currently deployed to 3k users across five continents in 14 languages
Sales reps easily and quickly able to access all required data in one place, saving time from navigating between different tools
Reduced training and onboarding needs
Shop Floor / Manufacturing
Scenario:
A large US based manufacturing company was using several disparate systems to capture project information. Data was entered manually on spreadsheets and paper forms before being entered again into a different system, taking 3-4 days to process a single form.
Solution:
Power Apps solution to digitize documents
Application allowed project managers and stakeholders to view all active projects, see key statistics, and manage the testing and shipping calendars
Result:
Simplified the collection of data to improve several processes
Provides timely, accurate, and relevant data reducing waste time
Collated all tools to one unified system
Professional Services Industry
Estimation/ Professional Services
Scenario:
A leader in integrated electrical projects for high-end home had a complex estimation system based on custom projects and specs. They were currently using legacy software that was expensive, time-consuming and inflexible to their growing needs.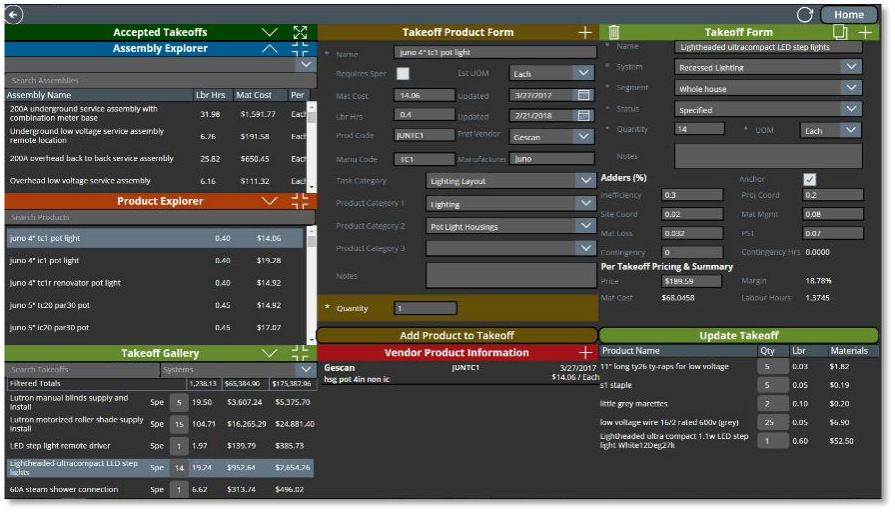 Solution:
New desktop-based estimating Power App used to collect data and perform calculations
Power Automate triggers notifications to department leaders whenever new products are. Added or assemblies created
All data for assemblies, product lists, and price estimates are stored in SQL Azure
Result:
Replaced outdated legacy system, saving $2k per seat
Faster training and onboarding
Reduced data entry time by half, allowing faster estimate pricing
Eliminated need for copy-paste data and connected directly to database
Accurate data is always available and estimation teams can iterate quickly and confidently
Field Service / Professional Services
Scenario:
Large roofing company with over 100 contractors and field crews manage over 100 work orders a week. Feld teams were spending a lot of time reconciling photos and reports every day in Dynamics 365 to track progress and plan projects manually.
Solution:
Streamline mobile Power App to take photos before, during, and after jobs
Photos stored offline on device, sent to SharePoint when network was available
Job status and notes sent directly to customer records via Dataverse
Relevant status info quickly shared to Dynamics 365
Result:
Mobile app deployed to over 120 crew members and considerably simplified the process
91% drop in processing time
App eliminated need for photo reconciliation
36% drop in customer call backs – real time info availability to customers and staff
26% reduction in trip time with easier truck and crew scheduling by proximity
Scheduling / Professional Services
Scenario:
One of the largest US accounting and consulting firms in the US was trying to manage office space for teamwork and client meetings across 15 major urban centers. They were having trouble balancing resource availability and scheduling between traditional office model and highly agile workforce.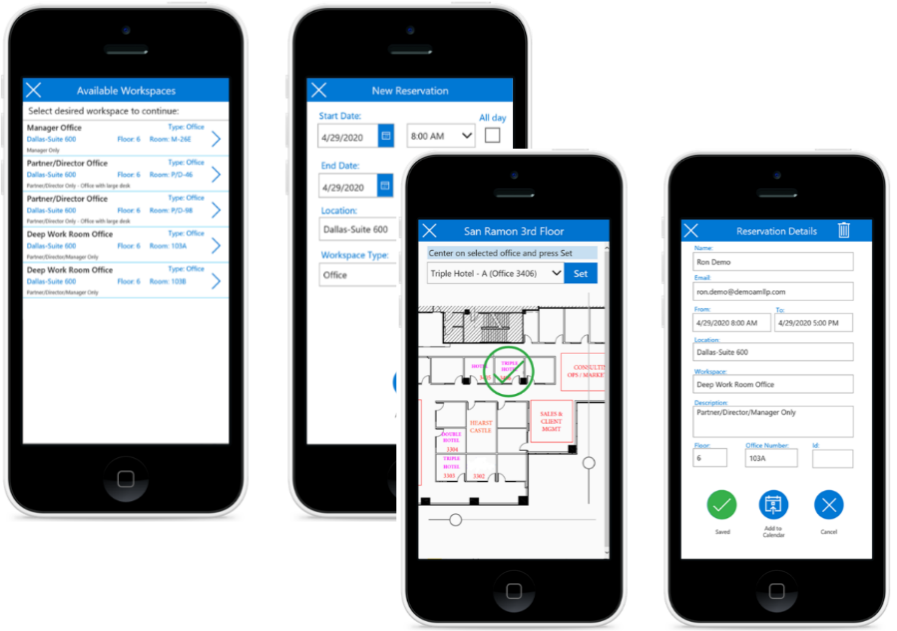 Solution:
Create Workspace Scheduler mobile Power App to show space availability and configurations
Azure SQL back-end with office layout images hosting Azure Blob storage
Experience integrated with Outloook, Microsoft 365 and SQL Server connectors
Result:
Staff has fast, accurate views of space availability and reservation ability
Improved space utilization stats point to 15-20% rent savings firmwide
Great lift to employee morale with easier process, fewer scheduling issues
Public Sector & Education
Business Management / Public Sector & Education
Scenario:
Human Services organization serving disabled communities utilized different teams to collect and track client and ops data in Office. The data was difficult to manage, had limited visibility and no single source of truth.
Solution:
Implement Dynamics 365 and Power Platform
D365 and Power Automate modernized client tracking and streamlined ops
Power BI enabled the right reports and visibility to KPIs
Power Apps adopted as tool to create additional integrated apps
Result:
Power Apps provided platform to continue employee empowerment and agility to create smarter apps in an efficient and leveraged manner
Created easy to find support plans for their patients
Provided insights to customers about care providers and social workers
Encouraged collaboration across their workforce
Project Management / Public Sector & Education
Scenario:
An agency tracking freshwater and natural resource projects was using paper and Excel-based processes, leading to inconsistent and delayed reporting. The team needed faster, more consistent access to project data.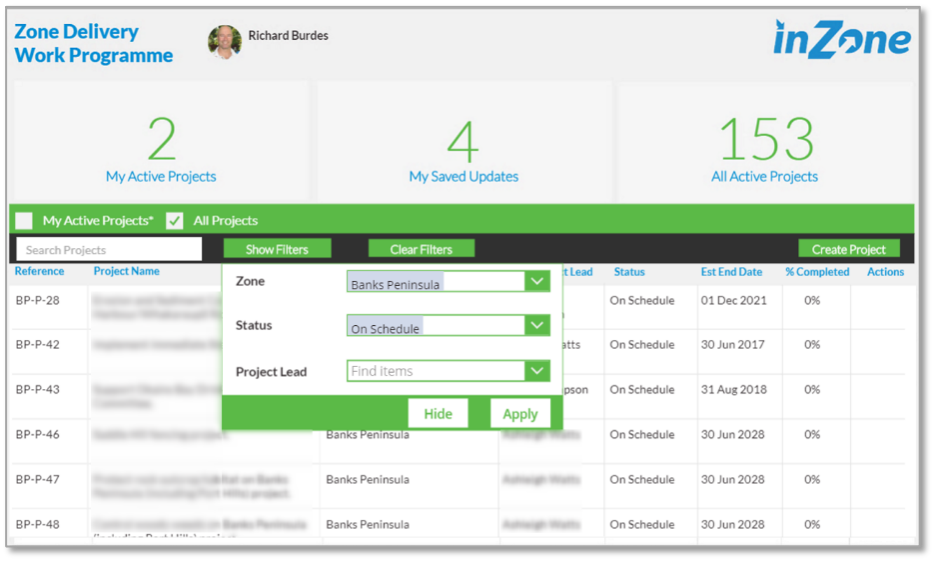 Solution:
Desktop-Tablet Power App to capture project data and track milestones
Data stored in SQL, accessed via the data gateway
Power Automate to send escalations and notifications
Power BI & SSRS dashboards and printed reports for key stakeholders
Result:
Immediate labor savings from the increased visibility across 500 projects
Faster data input enabling reports within minutes versus 1-2 weeks
Automated notifications
Retail Industry
Inventory / Retail
Scenario:
A project retail project management consulting firm in the US manages mission critical retail installations for supermarkets. Focused on optimizing floor layouts, lighting, and fixtures to maximize profits, they were using an excel based tracking process that was cumbersome and significantly reduced visibility.
Solution:
Built a new project portfolio app with Power Apps for tracking projects
All data stored in Dataverse with IP address tracking for devices and complex documents
Power Automate uses business rules send notifications, reminders and alerts
Result:
Project visibility vastly improved to run for 200 concurrent projects
All stakeholders use single system
Legacy system was replaced for fraction of the old system licensing costs
Supply Chain / Retail
Scenario:
A supermarket and pharmacy with over 2k locations and 200k employees needed innovations in their supply chain to enable process and efficiency excellence within the network.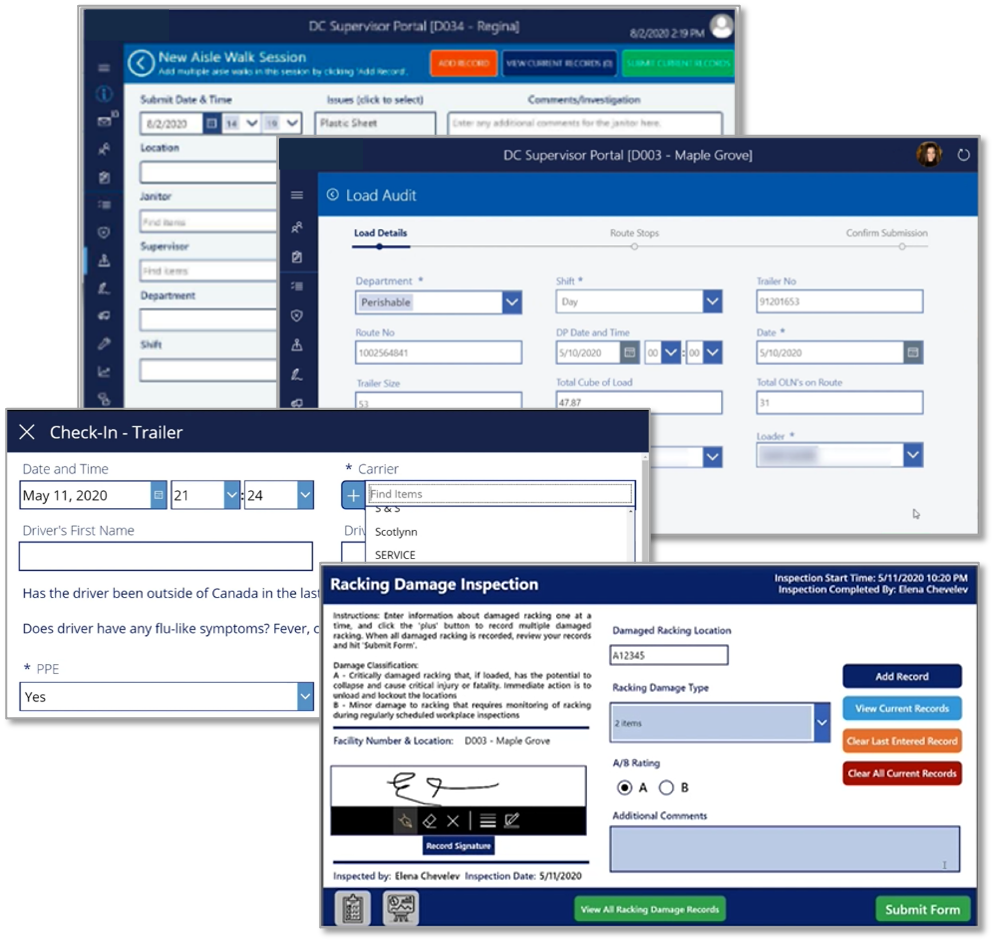 Solution:
Built a new project portfolio app with Power Apps for tracking projects
All data stored in Dataverse with IP address tracking for devices and complex documents
Power Automate uses business rules send notifications, reminders and alerts
Result:
Project visibility vastly improved to run for 200 concurrent projects
All stakeholders use single system
Legacy system was replaced for fraction of the old system licensing costs
Sales / Retail
Scenario:
A natural health company currently using Dynamics 365 Sales had account managers that weren't always recording key customer interactions. This limited customer status visibility across sales, resulting in missed opportunities.
Solution:
Power App created to ease data collection and sharing
Exchange meeting details by creating a pre-filled prompt for meeting notes and actions which can the be saved in D365 or shared by email
Actions and alerts can be broadcasted to customer team members
Power BI widgets in Dynamics surface key data during customer calls
Result:
The collection and sharing of insights helps sellers have more effective customer conversations so they can provide the right advice on the spot
Each sales team can meet their different needs with Dynamics, Power Apps and connections to other systems seamlessly in the background
Transportation Industry
Reporting / Transportation
Scenario:
A railway system with over 32k staff members is highly regulated, demanding and competitive environment with many forms being filled out each day. They needed a cloud based alternative from on-premise SharePoint and re-think their approach to the 200+ legacy SharePoint forms they created.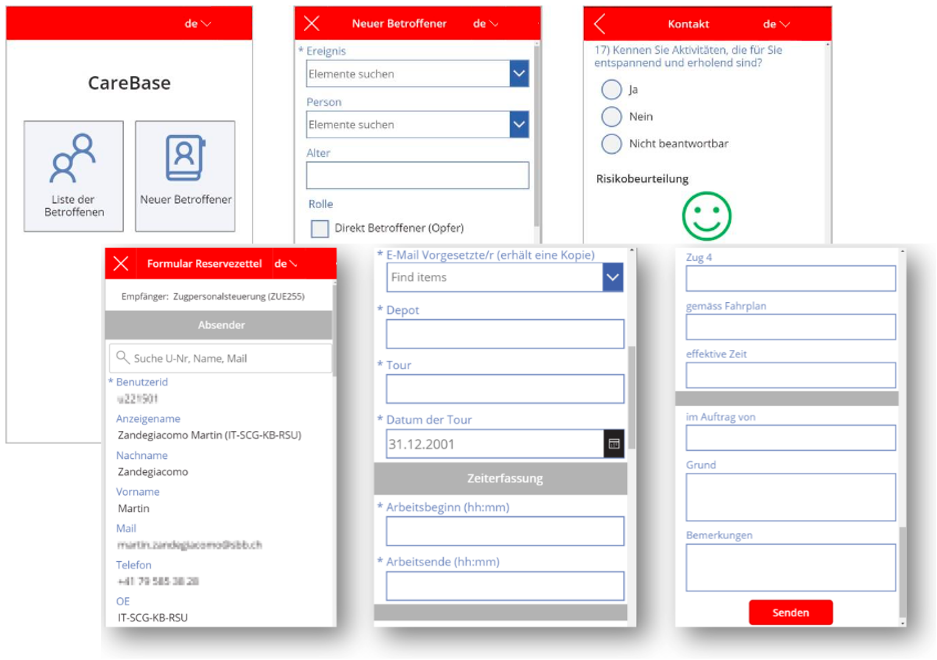 Solution:
Power Apps based forms with mobile and multi-lingual options
SharePoint Online for secure data storage
Power Automate to trigger emails to keep stakeholders in sync
Power BI to view station-specific reporting and ease monthly reconciliation
Result:
Modernized all 200+ forms ranging from incident reports, vending machine issues, to overtime reports
Fully modernized mobile, multi-lingual experience
Eliminated 3rd party solution licensing costs
Scalable process for deploying solution in days and weeks