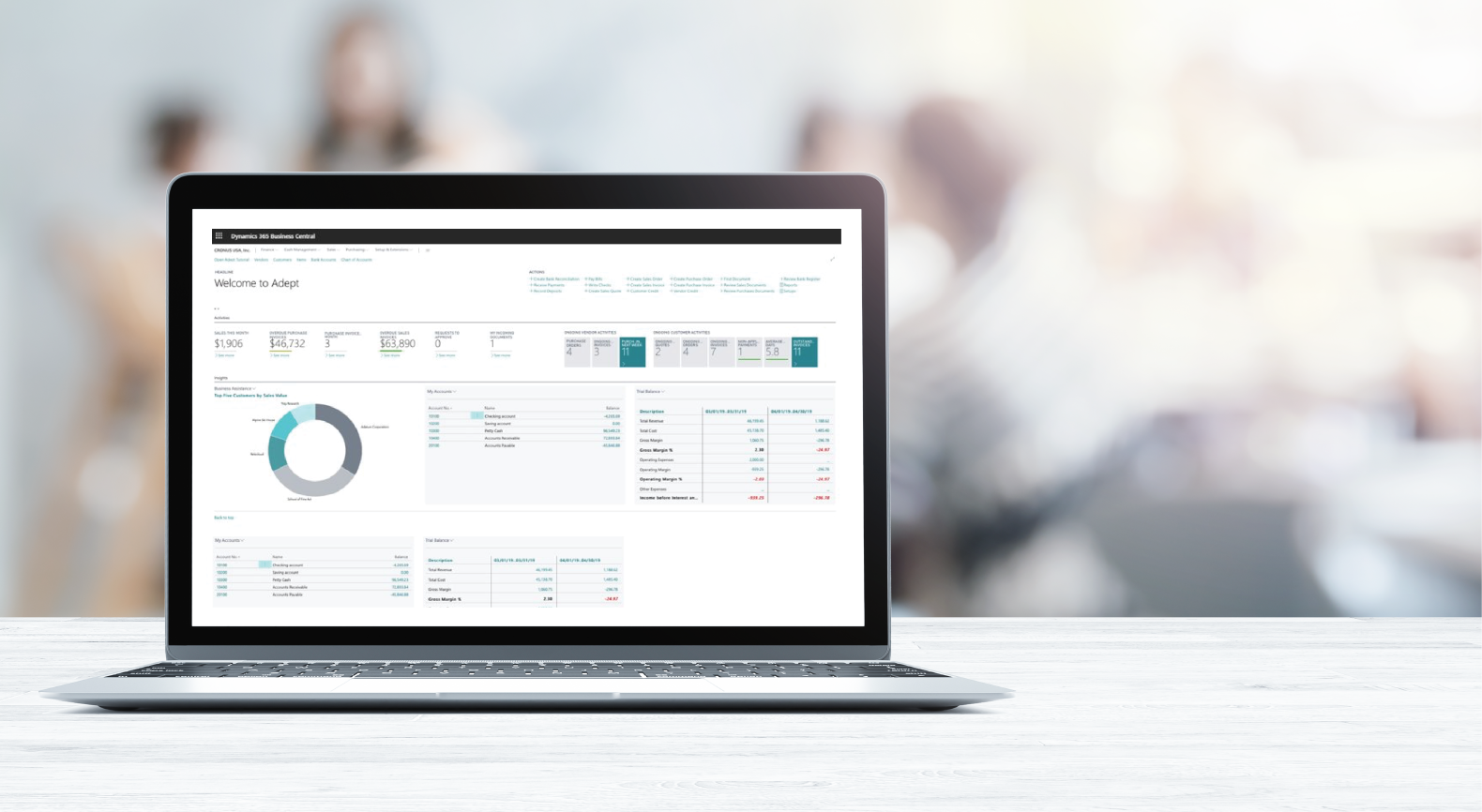 Jumping straight to the point – yes, D365 Business Central is a great fit for small businesses. But rather than just taking our word for it, let's back up a bit and talk about how we got here and dispel some of those myths behind SMBs and Business Central.
There is a longstanding misconception that Microsoft Dynamics was too big a system for SMBs. This idea stems from the fact that for many years, those looking to use Dynamics systems had to install the system on multiple servers. This took a lot of configuration, training, and expense with server management and upkeep.
But all that was required for on-premise systems, cloud accounting programs (like Business Central) have totally changed the game.
Long gone are the days of needing multiple servers to host your program, staff to maintain those servers, and the outsized cost of implementations. With cloud subscriptions it is now more affordable than ever for small businesses to run on Microsoft's ERP system.
What Industries Are Best Suited for Cloud-Based ERP
Cloud-based ERP systems, like Business Central, work for companies across a wide range of industries, from manufacturing to nonprofits. But the biggest group that benefits from a cloud-based system would be an established business currently running on older infrastructure, regardless of industry.
Across industry, a small business survey showed that in 2020 83%of small businesses had fully adopted to cloud computing, a strong affirmation that SMBs are ready for and desire a cloud-based ERP.
How to Tell You Are Outgrowing Your Accounting System
There are five main signs to watch for that indicate it might be time to switch accounting systems.
Systems are disconnected and information is siloed
Reporting is complicated and provides insufficient information
Manual processes result in duplicate entry and errors
Accounting occurs in Excel not in your financial system
Lack of workflows and audit trails put your business at risk
Tell-Tale Signs Your Business is Outgrowing Your Accounting System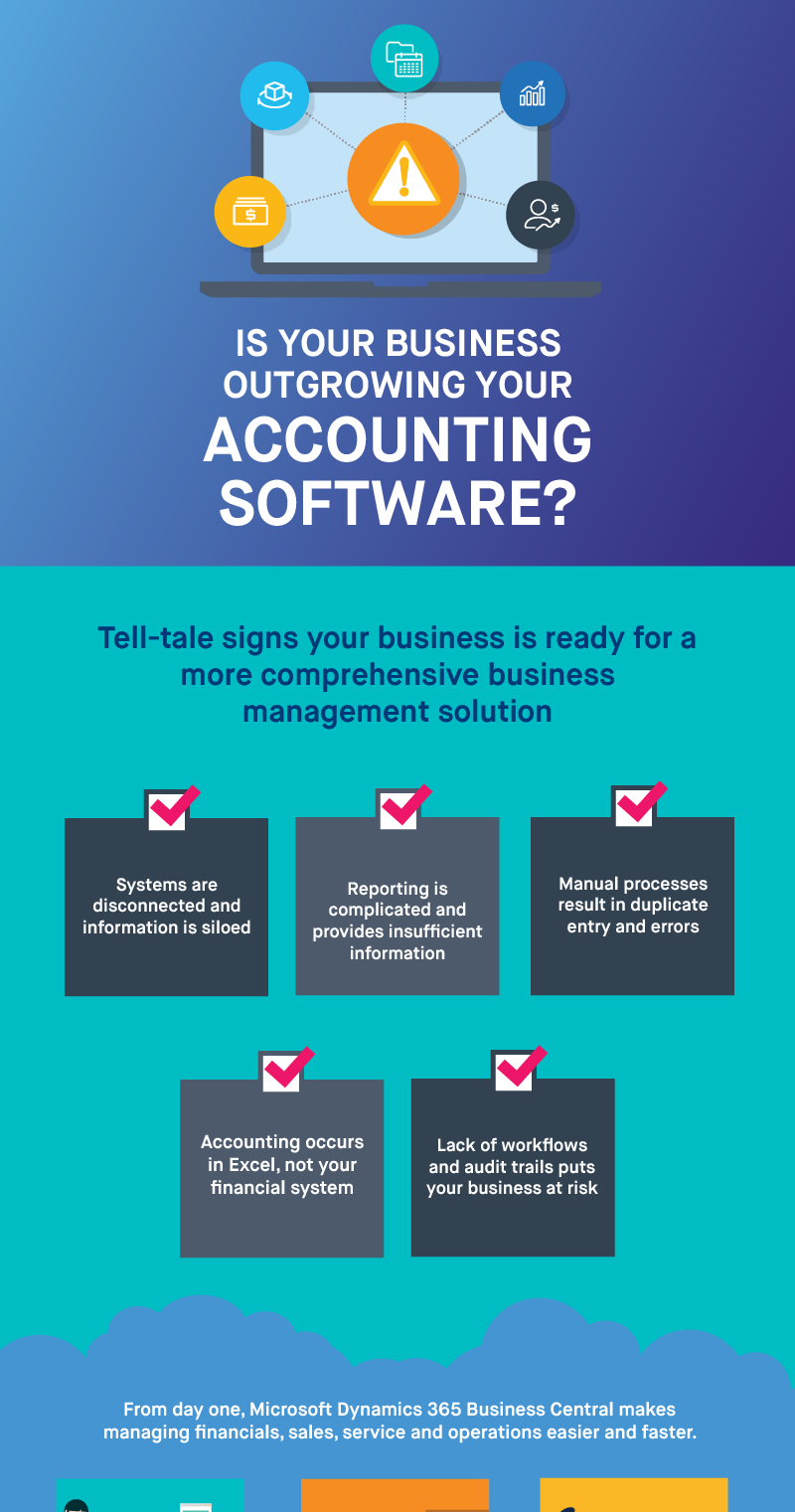 Download The Infographic Now
What is Included in Business Central
Business Central has a lot of functionality that can be personalized to your company's needs. There are typically seven main components of an ERP system: financial management, supply chain management, customer relationship management, project management, warehouse management, manufacturing, and service management.
A look at the seven modules included in Business Central: 
Financial Management 
Financial performance reporting in real time
Connect data across accounting, purchasing, inventory, and customer interaction
Develop financial forecasts by modeling and analyzing data
Create custom reports using Excel integration
Streamline accounts receivable and accounts payable
Supply Chain Management 
Predict, calculate, and replenish stock levels with automation
Receive recommendations on when to pay vendors, use discounts, and avoid overdue penalties
Prevent fraudulent or unnecessary purchases through approval workflows
Customer Relationship Management 
Track customer journeys through sales process
Identify quickly opportunities to cross sell or upsell
Improve service with better overview of service tasks and workloads to better assign resources and quicken ticket resolution
Boost productivity by accelerating quote-to-cash cycle
Project Management 
Create and manage customer projects with timesheets
Develop budgets
Project performance analysis
Warehouse Management 
High-level views of inventory for faster and more efficient order fulfillment
Manufacturing capability and resource optimization
Detailed production schedules to meet customer needs
Manufacturing 
Production orders
Supply chain planning
Capacity planning
Service Management 
Manage service orders, price, and contracts
Planning and dispatching
D365 Business Central has too many Capabilities for What My Business Needs
This is one of the most frequent comments small businesses make about changing from a system like QuickBooks to D365 Business Central. Let's unpack that a bit.
Using a basic accounting system (like QuickBooks) is often a great starting point for small businesses. We even ran on Quickbooks for most of our company's lifetime. But there comes a stress point when the system can't quite handle all your financial workflow needs and you start going outside the system to complete certain tasks.
Once you hit this level, you start spending a lot of time creating work-arounds and productivity decreases. You also lose access to critical reporting and end up spending hours pulling data from several places instead of just one.
When you start to really feel the constraints of this type of system, moving becomes extremely important and time sensitive.
But you don't have to wait until you're in this crunch to move. And that is exactly why programs like D365 Business Central exist – to make switching before you're really hurting easy and affordable. That way, as your business grows, you can create optimal workflows and processes right away.
Smaller accounting systems are great for getting started, but not great in scaling with your business.
How Much Does an ERP System Cost for a Small Business
The cost of an ERP system depends on the pricing model and type of implementation offered by the vendor but there are two main options; perpetual licensing or subscription plans.
Perpetual Licensing is used most often with on-premise ERP systems that are deployed to your own servers. You will most often pay a perpetual licensing fee, which is a one time cost paid up front, for the number of users and customizations required. This type of model does not take into consideration ongoing costs for maintenance, support, or upgrades.
Subscription Plans are the most common payment models for cloud-based ERP systems. This model bundles implementation cost, the licensing, maintenance, and support into one payment that is paid monthly or annually.
The subscription model has gained a lot of traction over the last several years, as it allows smaller companies to switch to an ERP system without needing to pay a large implementation fee upfront.
Factors that Impact Cost of ERP Systems
While it is extremely difficult to toss out a number for an ERP implementation, there are several factors to consider when trying to estimate the cost.
Number of Users – most ERP systems are priced per user and can range from $250-1000k.
Applications and Modules – ERP systems come with a lot of different modules (manufacturing, project management, CRM, etc.) and depending on your business needs, you might not need all these modules configured. Knowing which are critical to your business can help an ERP vendor give you the most accurate quote.
Third Party Add-Ons – what third party systems are you currently using? Some of these extensions and add-ons might come built into an ERP system, but others will require integration. Third-party licensing can be about 10-15% of the overall software cost.
Implementation – this often is the bulk of the project cost and why it is important to choose a vendor who understands your business and industry.
Maintenance & Support – most ERP systems require ongoing support and maintenance. Be sure to ask your vendor about additional cost associated with support. Some vendors, like Kopis, offer an unlimited support model built into the monthly subscription cost making it easy and affordable to get the help you need when you need it.
The bottom line? ERP implementations can range from $30,000 and up.
What if I Only Have One or Two Users and Don't Need a lot of Extra Capabilities?
We face this question often, and it's a great one. When you consider all the factors of an ERP implementation, many small businesses aren't ready for a large, robust system yet. But that doesn't mean Business Central, or another cloud-ERP system isn't a good fit.
When your needs are simpler and you're really looking for a system that will grow with you in the future, there are programs out there for a quick, easy, and affordable transition from systems like QuickBooks to Business Central.
Consider Kopis' Rapid Start program. This program is designed specifically for SMBs looking to make the change to an ERP system with needing only a few users, have basic accounting needs, and want the option to easily scale.
Built with the basic idea that SMBs should not have to sacrifice thousands of dollars and ease of use for capabilities, Rapid Start allows you to pay for what you need when you need it.
Small, one-time migration cost
Predicable stable price every month
Never pay for software updates
Unlimited support included
Rapid Start is for SMBs needing core financials and simple jobs reporting and starts at $250 per month per user.
Takeaways
Microsoft Dynamics 365 Business Central is a cloud-based ERP system for SMBs across industries
There are a lot of module options available when your business grows
Cloud-based ERP systems are more affordable and offer flexible pricing packages
Kopis can help transition SMBs with their Rapid Start Program