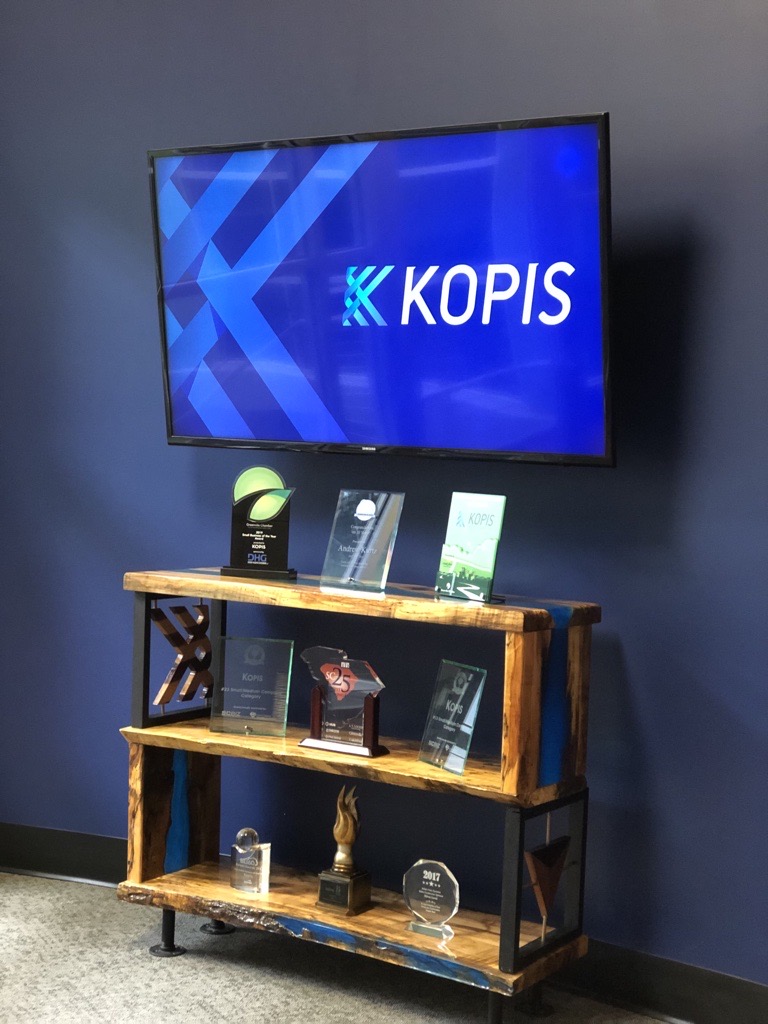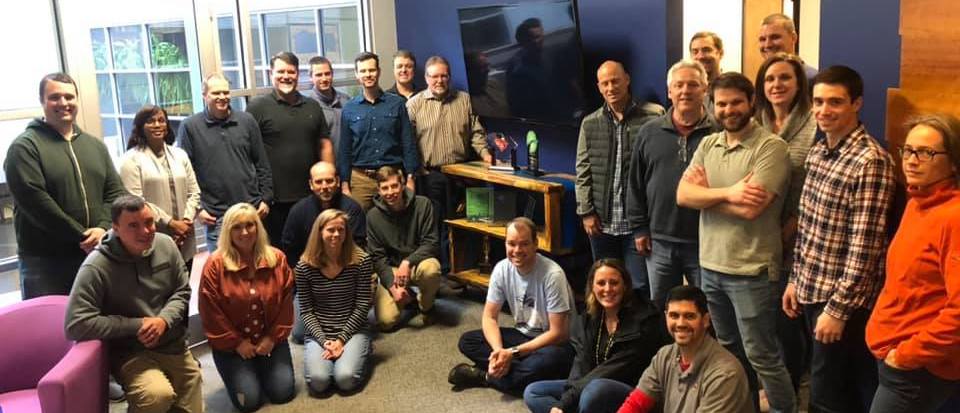 We had a really special morning at Kopis at the unveiling of our new customized Awards Case, handcrafted by Kopis employee and talented woodworker, David Friedline. 
We were running out of places to put our awards (a problem we are so thankful to have), and we wanted an appropriate place to put them to show our appreciation. The leadership team decided it was time for a proper display case, but instead of simply purchasing one, they decided it would mean a lot more to the team if the case was made by one of us. Immediately, David came to mind as the man for the job — and he did not disappoint! 
David wanted what he built to be more than just another ordinary display case, so he gave himself a challenge to incorporate a bit of Kopis personality into the piece. It took him a little while to settle on a design, but he had been wanting to try a River Table for a while. He thought it would look great in the office, so he finally had an excuse to learn a new technique.
Contemporary with a Rustic Feel
Described as "contemporary with a rustic feel," the piece reflects our innovative thinking while highlighting our accomplished employees. Thought went into every aspect of this piece, from the type of wood and orientation to the pipe legs and waterfall edges. The main element is Ambrosia Maple from a single tree, showing our unity as a team. 
The artist continued, saying "the colors and tone of the wood would be inviting, fit into the aesthetic of the office, and make an impact." The live edge made with resin is "to remind us of our constant growth and maturity." The pipe legs represent the industrial aspect of our office setting. His aim was to make it feel like it belonged in the office, not just an added piece.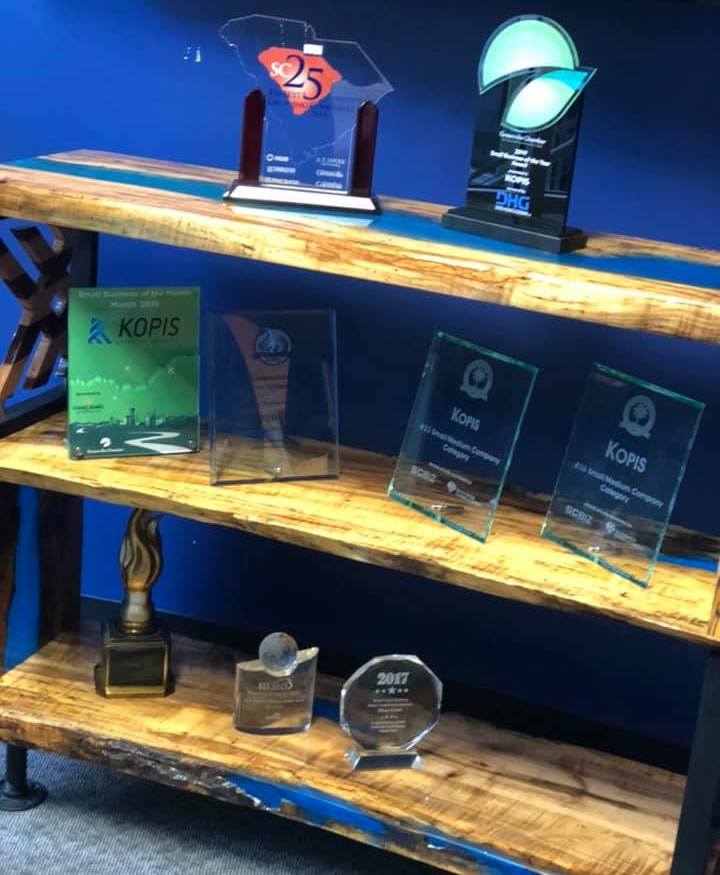 Rich Colors for a Rich Culture 
Both Kopis and Vigilix logos are incorporated to the design, but differ in construction. Constructed from domestic and exotic woods, they show our diversity while coming together to represent our team, partners, and clients collectively. 
"I wanted to recreate the logo as accurately as I could, and wanted to make a statement," explains David. The Kopis logo has Maple and Walnut with accents of Cherry and a central stripe of African Bloodwood to create a layered effect. The Vigilix logo uses extra-dark Wenge, Walnut, and reddish Sapele. 
Everything from "the curve to match the wall, the color to match the ambiance, the blue epoxy to go with company colors" was taken into thoughtful consideration. He closed with, "I like it because it fits, and because it is done." 
We are so grateful for David's talent, as well as for the community who bestowed these awards upon us over the years. We also appreciate our team members, clients, and partners — because these awards are the fruit of our collective labor. This display case reminds us to continually operate according to our four core values: Lead. Respect. Impact. Simplify.