Notes From 14,000 Feet: Candus Wester Goes Mountaineering
---
At the heart of our corporate culture at Kopis is encouraging our team members to ask themselves whether they're fulfilled and experiencing the quality of life they envisioned, both in their career and outside the office. We believe that having team members who live active, diverse, challenging, and fulfilling lives leads to better performance at work, willingness to pursue challenges, a more engaged office environment—and to co-workers who are simply more fun to be around.
We're proud of who our people are, both at work as well as outside the office in their family and personal lives. In fact, we recognized years ago that having "successful team members" is not just measured by what they contribute to workflow and client projects; their quality of life and success with our company can be heavily influenced by their experience and fulfillment outside of work. The adventures they take, the personal milestones they reach, and the things they're doing in their communities to impact others.
Recently, Candus Wester, one of our senior software developers and Kopis team member for 17 years, took off with a couple of friends to complete a mountaineering course and climb Mt. Rainier. Here are some of the pictures and notes from her journey:
---
I have a couple of awesome friends that are always coming up with great ideas for our epic girls-only trips that we take every couple of years. One had the goal of climbing Mt Rainier, so I said "Why not? That sounds like fun… I'm in!" Mt Rainier is an active volcano that is 14,410 feet tall, the highest peak in Washington state and the 17th highest in the United States. It's the most heavily glaciated peak in the contiguous US and is the source for 6 major river systems. So….while I have never shied away from most challenges and I thought I knew what I was getting myself into, you never really know until you're done how it'll all turn out.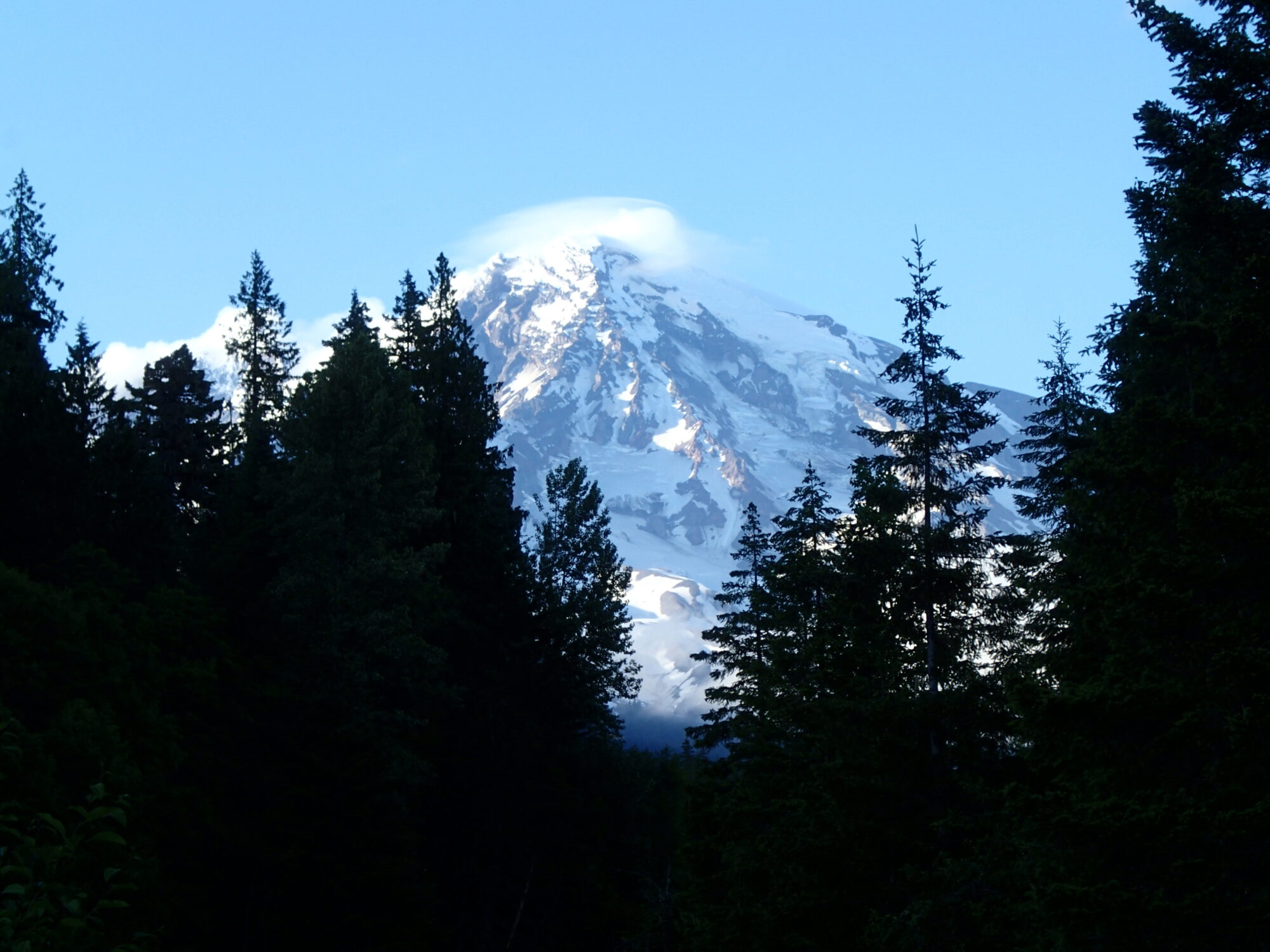 Yep – it looks just as big from below as it does from the plane. We got our first real-life look at Rainier as we were flying into Seattle. We all looked at each other and said in unison – "Oh. My. God. What have we gotten ourselves into? Are we REALLY climbing THAT?" We repeated this about every 10 minutes while we drove out there from the airport and kept getting fresh glimpses of the humongous peak.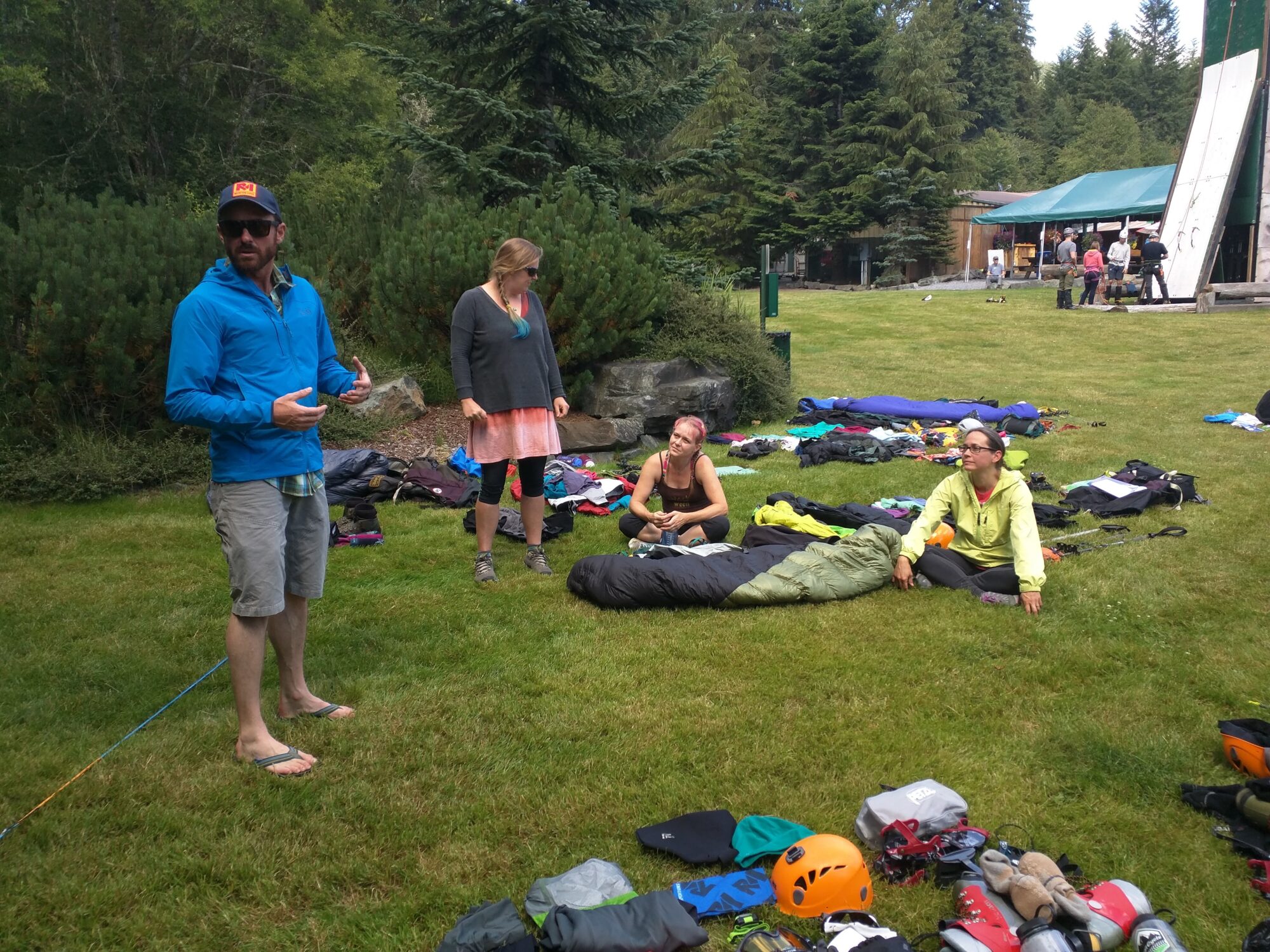 Day one – gear check. We lay out every single piece of our gear for our guide to inspect and approve. We discuss how and when each item is to be used – having the right gear is just the first step. If you don't know how and when to use each correctly, you could get hurt or worse. Luckily we had a gorgeous, warm sunny day for doing this. Summer is typically the dry season in Washington, but you never really know.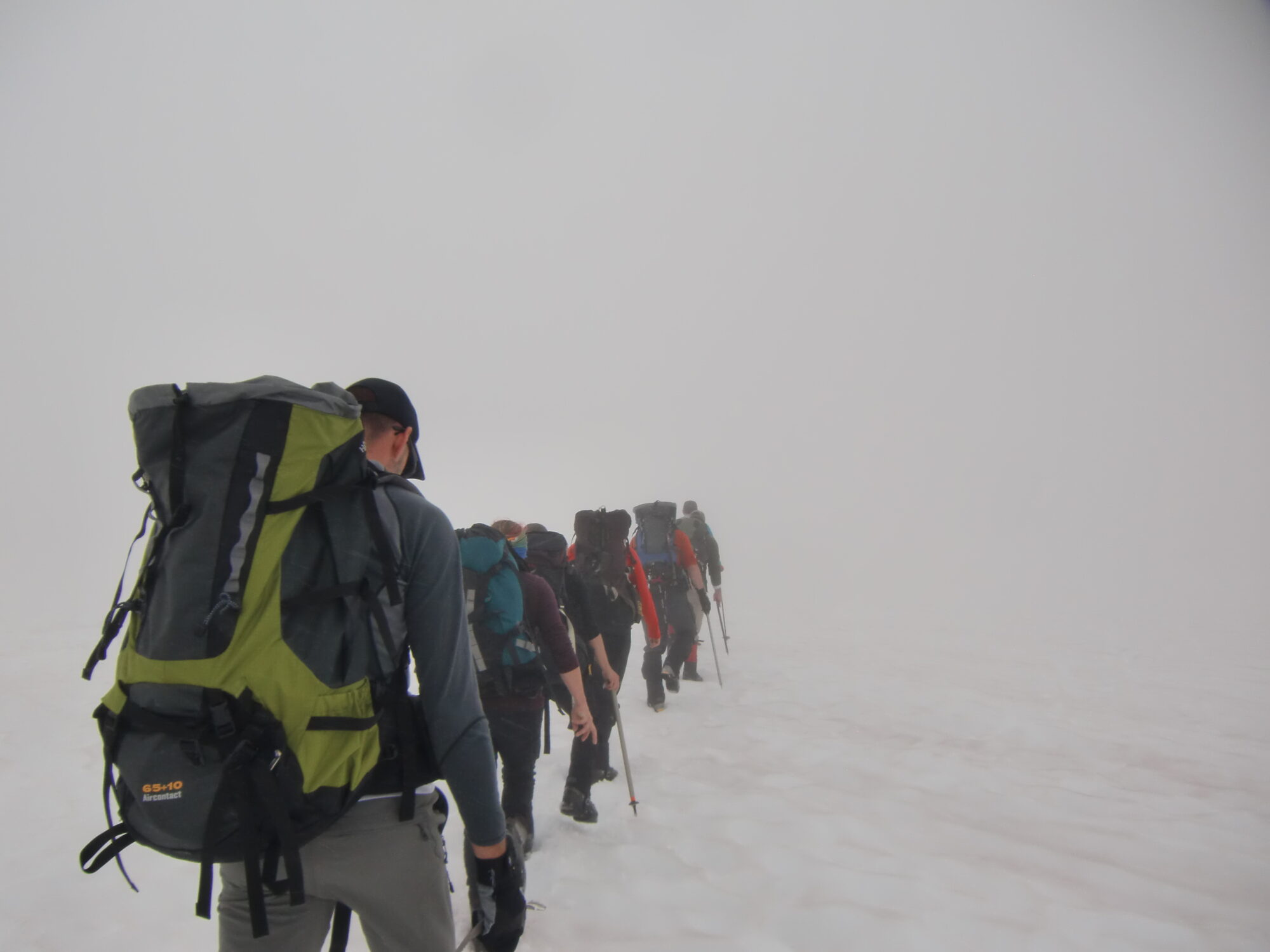 Mt Rainier's notoriously changeable weather kicks in on our training day. We get to practice traveling through the snow, rest-stepping and pressure breathing to help our bodies deal with the altitude. We also get to have fun sliding down slopes to practice self-arresting with our ice axes.

Home sweet hut: Camp Muir, at 10,188 feet, is our overnight stop. Spartan accommodations for sure, but definitely a welcome sight after climbing up from 5,400 feet where we started at the Paradise visitor center. The view is stunning, but we don't have much time to enjoy it since we have a briefing with the guides almost immediately after arriving. Then dinner and off to bed. It's pretty much impossible to go to sleep at 7pm while it's still daylight and you're crammed shoulder-to-shoulder into a hut with 17 other climbers. And of course, being excited and nervous doesn't help either. But the guides' threat of the impending 1am wake-up call is all the incentive you need to at least try.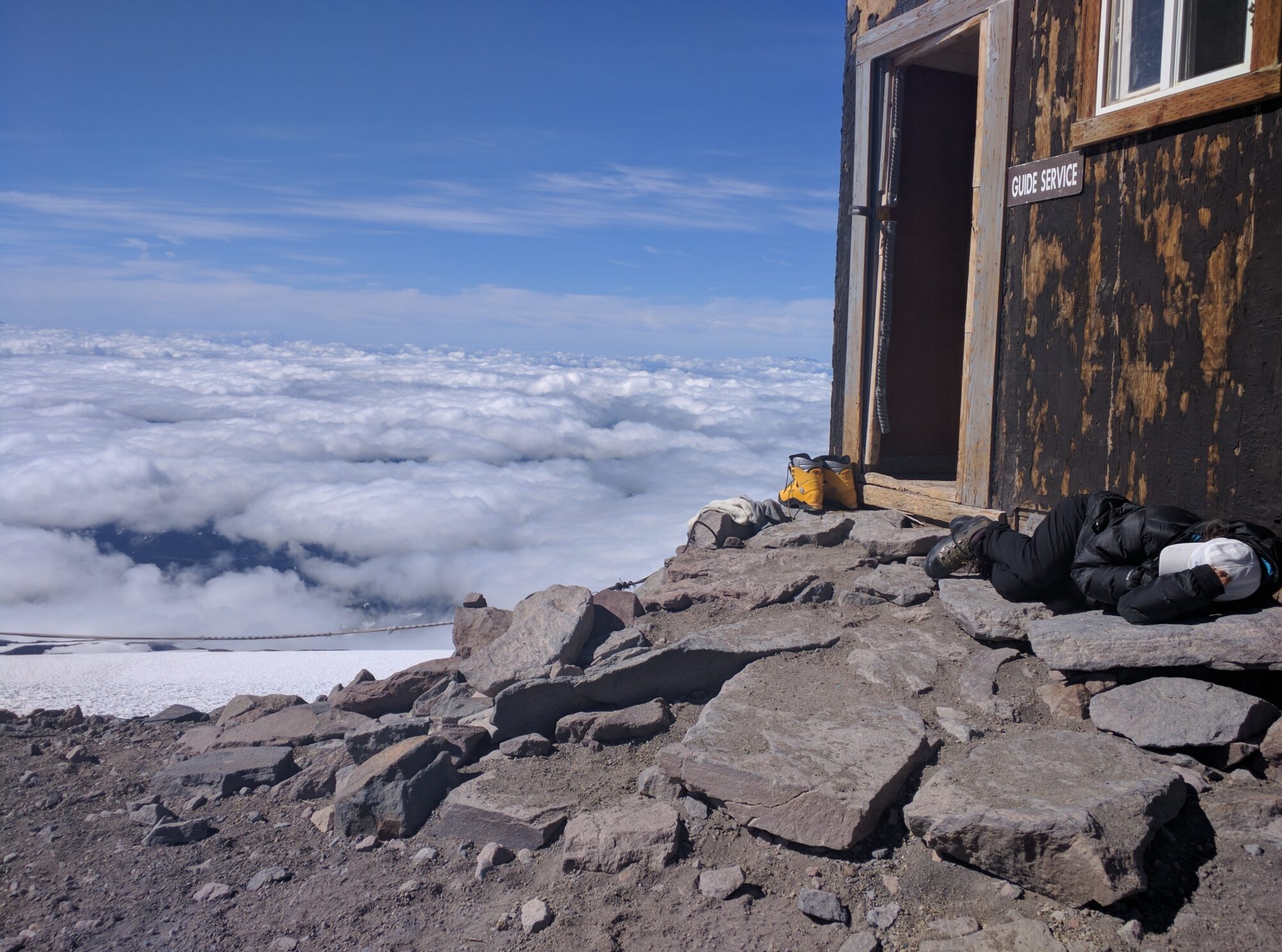 Did I mention that I have the most amazing friends? They love to share! This is me, sleeping in the sun because my friend shared her super awesome respiratory virus with me – I made it to 11,200 feet but I was so sick I couldn't make it all the way to the summit.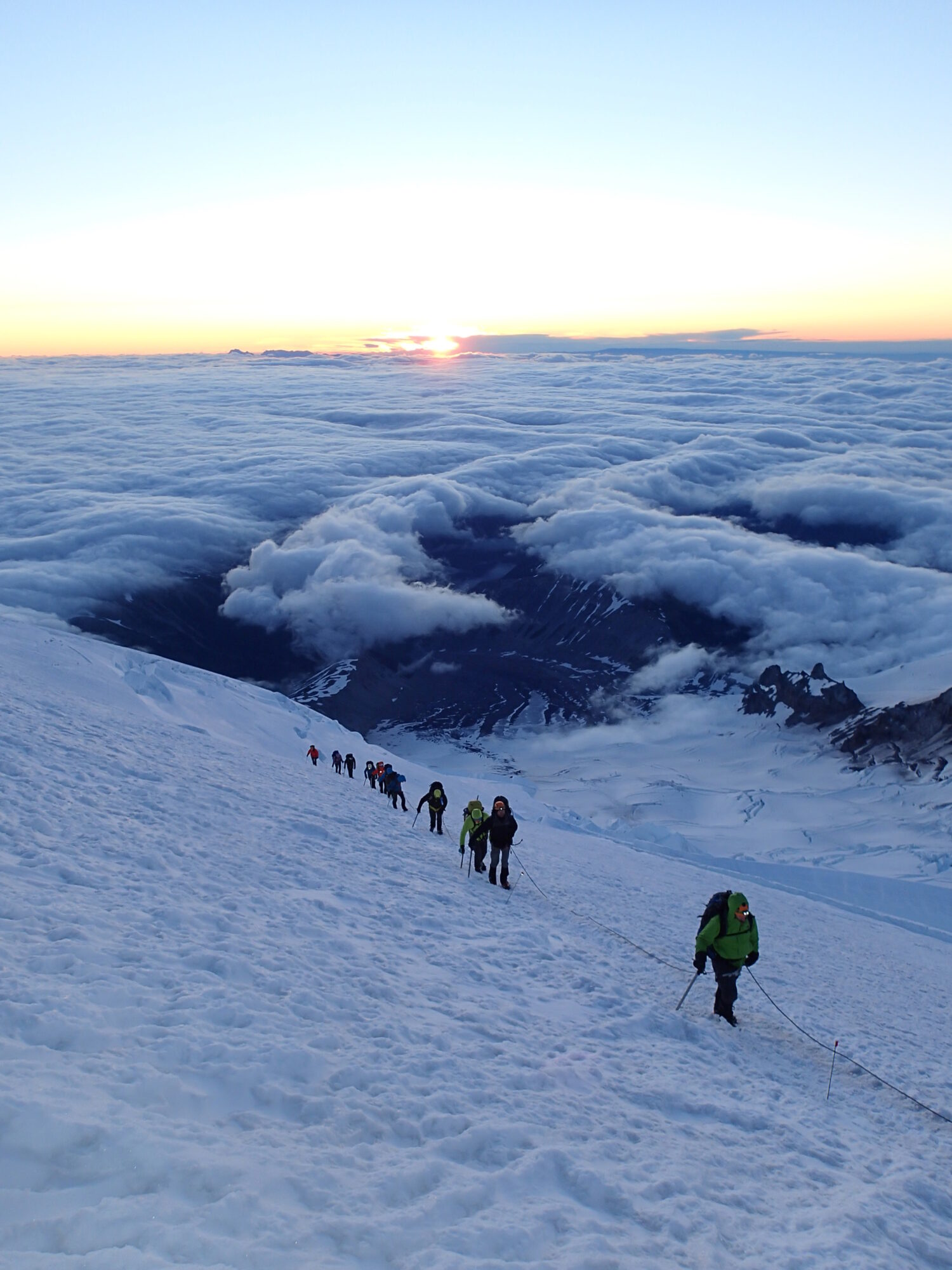 This is what those that did make it to the top got to see – an incredible sunrise while climbing the last stretch. Only half of our group made it all the way up and unfortunately, neither of my friends were among them. On average, only about half of those who make the attempt on Mt Rainier actually summit.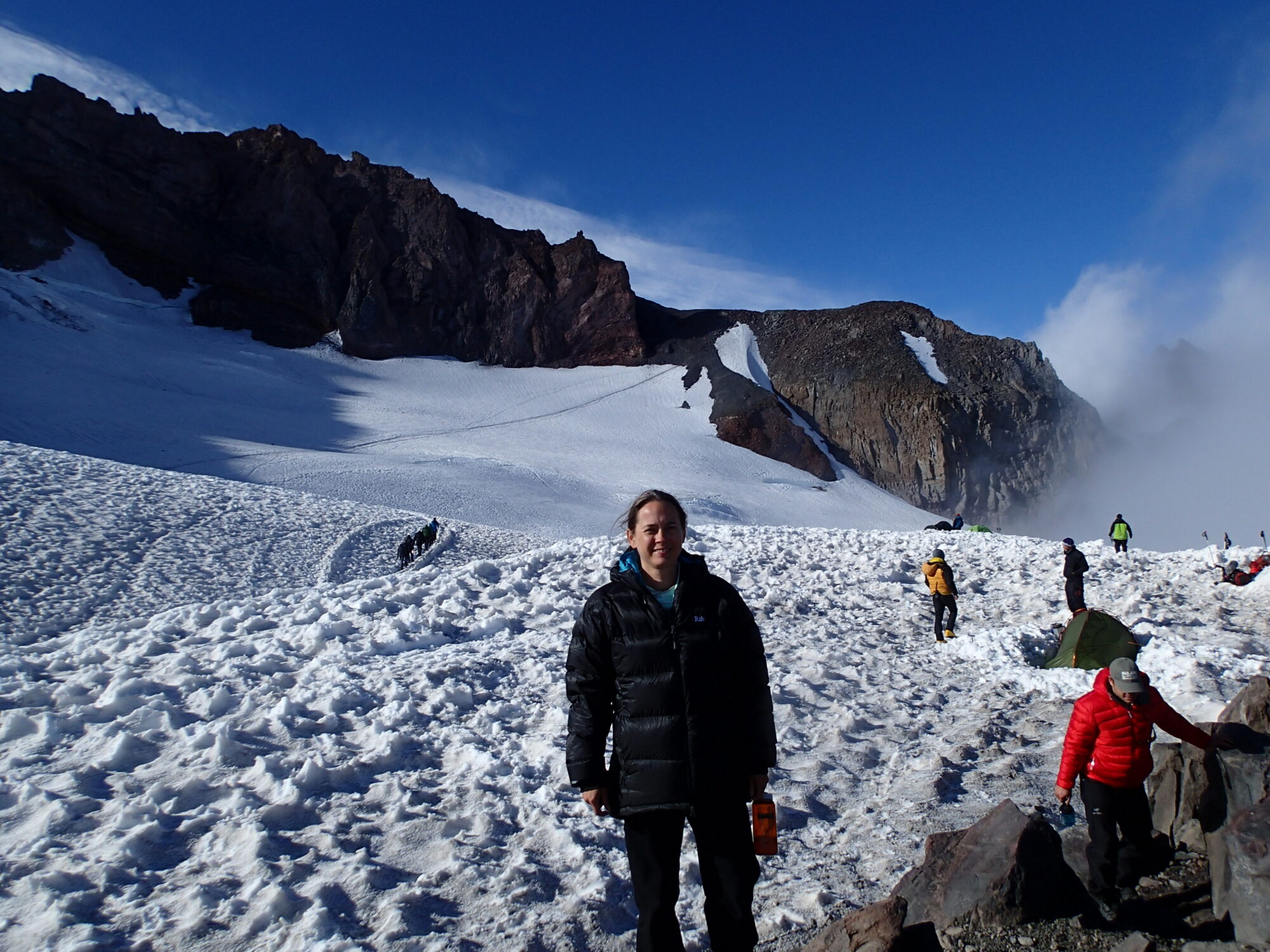 Even without a summit, it was a fantastic trip. It turned out to be a challenge that I didn't succeed at, but in the process, I learned a tremendous amount about how to be a competent and contributing member of a climbing team. I learned even more about what I'm capable of doing if I push myself outside of my comfort zone. That has stayed with me in the months since I've returned and has driven the way I've approached challenges ever since. And….since I didn't summit, I had the best reason ever to book my return ticket for this year!
Get industry insights delivered to your inbox.
Sign up to receive tech insights and thought leadership that will help drive business forward.